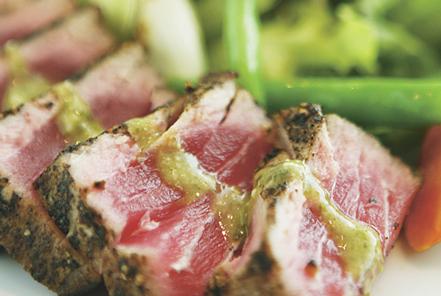 Sweet & Sour Lavender Seared Ahi Tuna with Shaved Zucchini Salad
Serve with Matanzas Creek Helena Bench Sauvignon Blanc or Journey Chardonnay
Ingredients
For the tuna:
½ lb. ahi tuna (sashimi grade)
¼ cup sugar
1 tsp. white pepper
½ tsp. culinary lavender
1 tsp. kosher salt
1/16 tsp. ginger powder
1/16 tsp. garlic powder
2 Tbsp. tahini paste
2 Tbsp. rice oil
For the salad:
1 cup rice wine vinegar
½ cup sugar
Pinch of salt
1 tsp. sambal (garlic chili paste)
1 garlic clove, minced fine
3 medium zucchini, julienne or shredded
¼ cup scallions, cut on the bias
½ cup carrot, shredded
1 Tbsp. sesame seeds, toasted
Preparation
For the tuna:
Remove skin and bloodline from tuna and discard.  Cut tuna into two rectangular shaped blocks.  Pat dry with a paper towel and refrigerate until ready to use.
In a spice mill, grind 2 Tbsp. sugar, pepper and lavender until fine.  Mix with remaining sugar, salt and ginger and garlic powders.
Lightly brush tahini paste on four sides of the tuna.  Sprinkle tuna with the spice mixture to lightly coat the tahini paste.
In a skillet, heat the rice oil over high heat until hot.  Quickly sear the tuna on all sides for 10 to 15 seconds per side.
For the salad:
In a small bowl, mix the rice wine vinegar, sugar, salt, sambal and garlic until sugar dissolves.
In a separate bowl, add zucchini, scallions and carrot.  Season lightly with sweet & sour vinaigrette until coated.
To serve:
Slice tuna into ¼-inch thick slices and arrange on a platter.  Pile salad in the center and sprinkle with toasted sesame seeds.