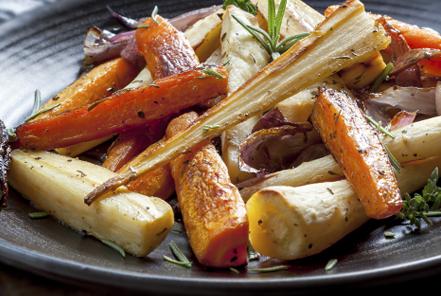 Roasted Baby Turnips with Bacon, Pine Nuts and Currants
Serve with Matanzas Creek Bennett Valley Pinot Noir
Ingredients
¼ C. red wine, such as Matanzas Creek Pinot Noir
¼ C. dried currants
4 bacon slices, diced small
2 lbs. baby turnips, peeled and cut into small wedges
¼ C. toasted pine nuts
1 Tbsp. butter
2 Tbsp. thyme leaves
Kosher salt
Preparation
Heat the wine over high heat until it comes to a boil.  Pour over the dried currants and reserve at room temperature.
Preheat the oven to 400° F.
Place a large sauté pan or short sided braising pan over medium heat.  Add the bacon and cook until the fat renders out and the bacon browns slightly.  Using a slotted spoon, remove the bacon, leaving the fat in the pan.  Reserve the bacon in a bowl.  Turn the heat to high and add the turnips.  Stir in the butter and transfer the pan to the pre-heated oven.  Cook for 15 to 20 minutes, or until the turnips cook through and become tender.  Once the roasted turnips are cooked, return the pan to the stove over high heat.  Add the currants and wine, along with the pine nuts and thyme leaves. Heat until the liquid reduces and glazes the turnips.  Season with salt and enjoy.