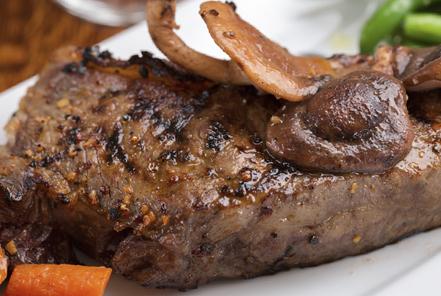 Pan Seared Rib-eye with Matanzas Creek Rub, Red Flannel Hash, Creamy Mushrooms and Fresh Horseradish
Serve with Matanzas Creek Jackson Park Merlot
Ingredients
4 (12 oz.) rib-eye steaks
5 Tbsp. extra virgin olive oil
3 Tbsp. Matanzas Creek spice rub
2 slices bacon, minced
2 medium Russet potatoes, washed with skin on and diced (½-inch)
½ medium onion, diced (½-inch)
1 tsp. thyme, minced
8 oz. roasted red beets, peeled and diced (½-inch)
Kosher salt
Freshly ground black pepper
1 lb. button mushrooms, stems removed and cleaned
4 cloves garlic, minced
¼ C. red wine, such as Merlot
¼ C. heavy cream
1 Tbsp. sour cream or crème fraîche
2 Tbsp. fresh parsley, minced
1 Tbsp. fresh horseradish, grated
Preparation
Rub steaks with olive oil and spice rub.  Cover with plastic wrap and refrigerate overnight.
Remove steaks from refrigerator and allow to sit at room temperature for 30 minutes prior to cooking.
In a sauté pan over medium heat, cook bacon until rendered.  Remove from pan and set aside.
Add potatoes to pan and increase heat.  Cook until golden and tender.  Add onions and cook for 2 minutes or until onions are tender.  Add reserved bacon, thyme and beets.  Season with salt and pepper and cook until crispy.
Sprinkle the steaks with salt.  In a separate pan over high heat, sear the steaks for 3 minutes per side.  Reduce the heat to medium, flip steaks and cook for an additional 2 minutes per side.  Remove the steaks from the pan and cover loosely with aluminum foil.  Allow to rest for 3 minutes.
Add mushrooms to pan and cook over medium-high until golden.  Add garlic and cook for 2 minutes.  Add wine and reduce until almost dry.  Add cream and reduce by half.  Add sour cream and parsley.  Season to taste and remove from heat.
Place hash on plate and top with a steak.  Garnish steak with mushrooms and freshly grated horseradish.