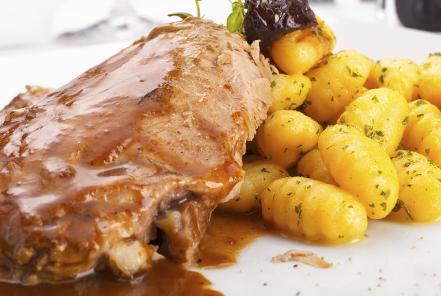 Pan Seared Fillet with Molasses Pan Sauce, Potato Gnocchi and Mustard Greens
Serve with Matanzas Creek Knights Valley Cabernet Sauvignon or Alexander Valley Merlot
Ingredients
Pan Seared Fillet
4 (5 oz.) fillet mignon
1 Tbsp. canola oil
Kosher salt
2 small shallots, minced
2 garlic cloves, minced
¼ C. red wine, such as Cabernet Sauvignon
¼ C. whole grain or stone ground mustard
1 C. chicken broth
1 Tbsp. molasses
2 oz. butter
For the gnocchi:
6 Tbsp. olive oil or room temperature butter
2 lbs. Russet potatoes (approximately 3 large potatoes)
4 egg yolks
3 oz. all-purpose flour
2 oz. semolina flour, plus 1 oz. for dusting the pan
1 Tbsp. kosher salt, plus more for blanching and seasoning
1/8 tsp. white pepper
1 bunch mustard greens, stems removed and cut into 1-inch strips
1 Tbsp. butter
Preparation
Pan Seared Fillet
Preheat the oven to 375˚F.  Remove the steaks from the refrigerator and allow to sit at room temperature for 30 minutes.
Heat a large sauté pan over high heat.  Add the canola oil and continue to heat for 1 minute.  Season the steaks with salt and carefully place in pan.  Reduce the heat to medium-high and sear for 3 minutes per side.  Remove the steaks from the pan and place on a baking sheet.  Finish steaks in oven to desired doneness.  Remove steaks from oven, cover lightly with aluminum foil and allow to rest for 3 to 5 minutes.
Meanwhile, pour out the excess fat from the sauté pan.  Add the shallots and garlic and sauté for 1 minute over medium heat.  Deglaze the pan with red wine and cook for an additional minute.  Add the mustard, chicken broth and molasses.  Bring the sauce to a boil and reduce by half.  Remove from heat and stir in the butter.  Salt to taste.
For the gnocchi:
Preheat the oven to 375˚F.  Rub potatoes with 1½ tablespoons olive oil and bake for 1 hour or until soft to the touch.  Remove potatoes from oven and allow to cool slightly.  Cut the potatoes in half crosswise.  Scoop out the flesh and pass through a ricer or a tamis into a large bowl. 
In a large sauce pot, add at least 3 quarts of water and season with salt.  Bring to a boil.  
In a small bowl, lightly beat the egg yolks.  Add eggs, 1½ tablespoons olive oil, 1 tablespoon salt, white pepper and approximately ¾  of each flour to the potatoes.
Gently knead the mixture until the flour is incorporated.  Add more flour if the mixture is too wet, being careful not to overwork the dough as this will make the gnocchi tough.  Form the mixture into a ball and divide into 4 pieces with a knife.
Roll each piece into a rope, approximately ¾-inch thick.  Cut into 1-inch pieces.  Dust gnocchi with flour and place onto baking sheet dusted with semolina flour.
Working in batches, add gnocchi to the boiling water and cook until they float to the surface. Remove gnocchi using a slotted spoon or a spider.  Toss gnocchi with a small amount of olive oil to keep them from sticking and refrigerate until ready to use.  (This recipe makes extra gnocchi.  To freeze the extra, line baking sheets with waxed paper and dust with flour.  Place the gnocchi on the sheets and freeze until hard.  Transfer to freezer bags and store for up to 1 month).
In a large sauté pan, add 2 tablespoons olive oil and sauté gnocchi until golden brown (approximately 10 to 12 per person).  Add the mustard greens and cook for approximately 2 minutes or until greens are wilted.  Remove from heat and finish with 1 tablespoon butter.  Salt to taste. 
To serve:  Spoon the gnocchi and greens onto a plate.  Top with a fillet and drizzle with sauce.