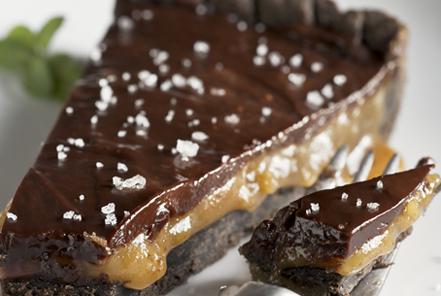 Dark Chocolate and Caramel Tart with Lavender Sea Salt
Serve with Matanzas Creek Sonoma County Merlot
Ingredients
For the chocolate tart dough:
8 ounces butter, at room temperature
2 C. powdered sugar
1 tsp. kosher salt
2 large eggs
2 egg yolks
5 C. all-purpose flour
½ C. cocoa powder
 
For the caramel chocolate filling:
¾ C. cream
½ C. milk
1/3 C. sugar
2 Tbsp.  water
3 egg yolks
8 ounces dark chocolate (60 to 64% cacao)
 
For the caramel mousse:
½ C. sugar
½ C., plus ¾ C. cream
 
For garnish:
Himalayan pink salt with lavender
Seasonal berries
1 gelatin sheet
Preparation
For the chocolate tart dough:
In the bowl of a mixer fitted with the paddle attachment, whip the butter until light and airy.  Add the powdered sugar and salt and continue mixing for 1 minute.  Add the eggs, one at a time, and mix until smooth.  Gradually add the flour and cocoa powder and mix on low, just until the dough comes together and the flour is incorporated.  Divide the dough into thirds, wrap each third in plastic wrap and refrigerate for 1 hour. 
Once chilled, roll out dough on a floured surface to approximately ¼ -inch thickness.  Press the dough into an 11-inch tart pan with a removable bottom and cut off any extra dough from around the edges.  Chill the tart dough again for 1 hour.  Bake the chilled tart dough in a preheated 350° oven for 12 to 16 minutes or until cooked through and set firm.  Remove and cool at room temperature for later use.
* This recipe makes enough dough for 3 tarts.  It can be frozen before being rolled out, or rolled out and frozen in the mold, if you do not wish to use it all at once.
For the caramel chocolate filling:
Heat the cream and milk together in a sauce pan and reserve. 
Mix the sugar and water in a separate small sauce pan and place over medium-high heat.  Without stirring, cook the sugar until it caramelizes and turns a light amber color.  Remove the caramel sauce pan from the heat and carefully whisk in the heated milk and cream.  
Meanwhile, whisk the egg yolks until thickened and pale yellow.  Slowly add the hot caramel and cream mixture to the egg yolks, one small ladle at a time.  Once all the caramel and cream mixture is incorporated into the egg yolks, return the mixture to the sauce pan over medium heat.  Cook for an additional 2 minutes, stirring constantly.  Strain the mixture through a fine sieve and stir in the chocolate.  Pour the filling into the prepared tart shell and chill in the refrigerator for at least 2 hours.
For the caramel mousse:
In a sauce pan, add sugar and enough water to cover the sugar.  Heat over medium-high heat.  Once the sugar caramelizes, remove from the heat and stir in ½ cup of cream.  
Soak the gelatin in ice cold water until soft, approximately 2 minutes.  Drain the gelatin as much as possible and dissolve in the hot caramel.  Allow the caramel to chill to room temperature.  
Whip the remaining cream and fold into the caramel.  Reserve refrigerated.
To assemble:
Transfer the caramel mousse to a pastry bag fitted with a large star tip.  Remove the tart from the refrigerator and pipe a continuous ring of caramel mousse along the edge of the tart filling.  Sprinkle tart lightly with Himalayan pink salt with lavender and cut into small individual wedges.  Garnish with seasonal berries and serve immediately.