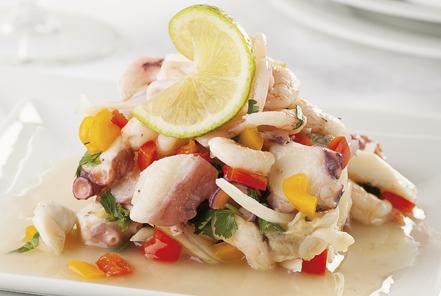 Coconut and Lavender Rock Shrimp Ceviche
Serve with Matanzas Creek Sonoma County Sauvignon Blanc
Ingredients
For the lavender poaching liquid:
1 qt. water
1 C. white wine, such as Sauvignon Blanc
1 lemon, juiced and sliced
1 sprig of fresh thyme
½ tsp. culinary lavender
Kosher salt
1 lb. fresh rock shrimp, cleaned and rinsed
2 qts. ice
 
For the ceviche:
½ C. coconut milk
1 Tbsp. culinary lavender
1 tsp. granulated sugar
¾ C. lime juice (approximately 4 limes)
½ C. red onion, diced
1 avocado, diced
1 Tbsp. cilantro, chopped
1 lb. rock shrimp, cooked in lavender poaching liquid
Kosher salt
Preparation
For the lavender poaching liquid:
In a 4-quart pot, add the water, wine, lemon juice, lemon slices, thyme and lavender and bring to a boil.  Remove from heat, cover and allow to steep for 15 minutes.  Strain out the solids and pour liquid back into pot.  Discard the solids.  Bring liquid back to a boil.  Once at a rolling boil, pour shrimp into seasoned liquid.  Stir to ensure even cooking.  Remove pot from the heat.  Shrimp will turn white when done, approximately 45 seconds to 1 minute.  Pour off ¾ of the liquid and add ice.  Once the shrimp are ice cold, drain and dry well.  Reserve cold.
For the ceviche:
Mix the coconut milk, lavender and sugar together.  Bring to a simmer and cook for 1 minute.  Remove from heat, cover and steep for 10 minutes.  Strain out the lavender flowers (being careful not to press too hard as it will extract the bitterness from the flowers).  Chill coconut milk mixture.  
Mix remaining ingredients in a bowl.  Add shrimp and half of the coconut milk. Salt to taste and serve in a bowl on ice.